Saaya is a messenger aboard Gargantia and is best friends with Amy and Melty.
Personality
[
]
Despite her attractive appearance, Saaya has shown herself to be somewhat low-key and reserved. Even so, she shows no such embarrassment, but rather delight when dancing in the festival wearing the same skimpy harem dancing outfit as Amy and Melty, smiling throughout the whole performance.
Appearance
[
]
Saaya is a beautiful well-endowed teenage girl for her age who has bright golden eyes and long brown hair with fringe bangs and two curtains of her hair in red and white beads . She wears a similar attire to Amy's, consisting of a red top with a yellow long sleeve mini vest that exposes her shoulders, a maroon slited miniskirt with a pink sash at her waist, and cream colored sandals with brown folds. She also accessorizes with a white beaded necklace and carries a brown hip pouch. When making her deliveries, she carries a brown satchel bag.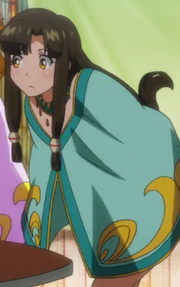 During the calm she wore a yellow bikini with a short pink sarong, and during the festival in episode 6 she performed in a belly dancers outfit like that of Amy and Melty: a cyan and gold embellished brassire and hipster bikini bottoms covered in front with a matching beaded belt that has a see-through high slit chiffon skirt, a decorated chocker and golden headdress with two feathers on top, armbands and anklets.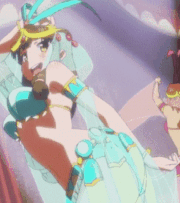 Plot
[
]
Trivia
[
]
Saaya is a name with several meanings, including: Shelter, Shade, Influence, and Evening.
Bust: 95cm - Waist: 62cm - Hips: 90cm